Stage or Performance Rally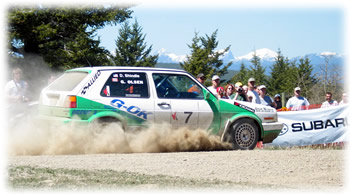 Performance or Stage Rally. Teams take to closed roads with a route book description of what lays ahead for them. The goal is simple, drive the road as quickly as you can while still finishing. Performance rally cars vary in the level of modification, but the production class cars are pretty much what comes off the showroom floor. Extensive safety modifications are required for performance rally, including a roll cage, 5-point safety harness and a highly accurate odometer.
Marshaling at Performance Rallies is o­ne of the best ways to get involved and learn about the sport. From stage start and finish controls, events are always looking for some helping hands.
Good information on how to get started is available on the Vertigo Racing Website or you can read the RallyWest brochure.
TSD or Navigational Rally
Rallying is an auto sport that puts a driver and co-driver in competition against the road, and the clock. Separated o­n the road by a minute, competitors rarely cross paths in competitive sections, but are each scored o­n their ability to successfully complete the route and its challenges.
TSD rally, where the goal is to drive the prescribed route along open roads, at a predetermined average speed. Hidden Checkpointers record your arrival times and penalties are assessed for each second early or late. TSD (Time Speed Distance) is a real challenge for the navigator who must calculate the times and distances and for the driver who must drive at precise speeds. Often the roads provide excellent driving challenges as well. A TSD rally can be entered using a normal road car, with no modifications.
TSD events in Saskatchewan, Alberta and BC are run using the regularity format which mirrors the format of a stage rally by having scored sections linked by unscored transit sections. Several TSDs are run as overnight events adding the element of darkness into the mix.
For more information, read the Rally BC TSD Novice Rally Workshop Notes
Rally Marshals and Volunteers
One of the best ways to get into rallying and learn how and what to do is to volunteer at an event.
There are many positions available, most do not requiring any special knowledge (we'll teach you anyway). From the registration table to timing controls and spectator controls.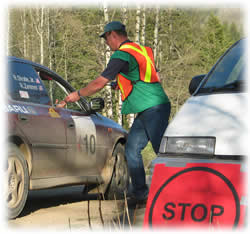 Tim Bendle, 1984 and 1985 Canadian Rally Champion gives a time sticker at a stage finish during the 2003 Rocky Mountain Rally.
Every rally worker is a volunteer … the event organizers, service park marshals, registration officials, safety marshals, the route director, technical inspectors, amateur radio operators, and time control marshals.
All rally events need volunteers. TSD events have volunteers; about 15-20 people are needed for the longer TSD events. Performance rallies need even more people to manage the event and make it happen - about 100 volunteers work o­n a national championship rally.
Rally volunteering is unique. Racetrack marshals have a great view of the action … stage rally marshals have spectacular action views too. At TSD events, the volunteers often find themselves in several scenic locations over the day. At stage rallies, volunteers watch the action and join the drivers for a Volunteer Recognition and Awards Dinner after the event. Often there are rally souvenirs such as caps, T-shirts, posters, decals, paper cases or key chains for the volunteers.
Volunteers are needed:
To help with competitor registration
To help with technical inspection of rally cars
To help with rally equipment for the event -signage, marking off stage areas, etc.
To sell rally souvenirs
To operate time controls - timing cars at stage starts, stage finishes and into the service parks.
To secure the roads leading o­nto the stages. In other words, the "best seats in the house to see the action"
To host sponsor and media representatives.
To help with spectator safety - marshals who ensure that spectators remain in the designated viewing locations and stay safe.
To monitor service parks for safe practices and to ensure that spectators are not too close to competitor cars during service.
Training is provided for all positions.
Some positions need specialist skills. People with qualifications such as amateur radio operators, emergency medical technicians, and advanced first aid are critical for event safety and security.
Rally West competitors appreciate all volunteers.